Our Favorite People In Heaven
---
Phil Hartman
Phil Hartman, an 8-year SNL cast member and movie actor, died Thursday, May 28 1998. He was shot repeatedly, apparently by his wife Brynn, who later committed suicide as police took the children into custody. Police responded to a 911 call but when they arrived, Phil had already been dead for some time. Phil and Brynn leave behind two children: a 9-year-old boy, Sean, and a 6-year-old girl, Birgen.
Phil was first known as "Cap'n Carl" on Pee-Wee's Playhouse, and he also helped write the screenplay for the movie Pee-Wee's Big Adventure in 1985. A year later he joined the cast of Saturday Night Live and continued for eight years, until he left the show in 1994. Ironically, his emotional last scene was with SNL castmate Chris Farley, who also died years later.
After Phil left SNL, he appeared in several films including Coneheads, Houseguest, and So I Married An Axe Murderer. Then, in 1995, he landed a TV job as Bill McNeal on Newsradio, an office sitcom also starring Dave Foley and Andy Dick. While with Newsradio, Phil also made more movies, did voices for various works including The Simpsons, and made commercials for 1-800-COLLECT, M&M's, and McDonald's.
Phil died just days after NBC renewed Newsradio for another season, but the show will continue without him. Phil's good friend Jon Lovitz will replace him on the show, with a different character.
"If life gives you lemons, make lemonade, and throw it in the face of the person who gave you the lemons, until you get the oranges you asked for in the first place."
-Phil Hartman, Newsradio

Phil Hartman Page


Phil Hartman Page #2


Phil Hartman 1948-1998


The Phil Hartman Show

---
Chris Farley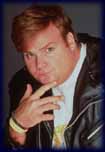 As most of you probably already know, Chris Farley was the plus-sized, eccentric comedian on his way up the Hollywood food chain to become a big star.
Chris was born February 15, 1964 in Madison, Wisconsin where he grew up. In 1986 he graduated from Marquette University with a degree in communications, and he joined the cast of Saturday Night Live in 1990. It was at SNL that he won the hearts and laughs of people all across America.
With characters such as Matt Foley the Motivational Speaker, the slightly overweight Chippendales dancer, and a member of the Chicago-obsessed Bill Swerski's Superfans, Chris delighted audiences with his wild, loud performances and crashing (sometimes literally) finales.
While on SNL, Chris guest-starred in three SNL based movies: Wayne's World, Wayne's World 2, and Coneheads. It was only after he left the show in 1994 when he made his starring debut in the hit Tommy Boy with good friend & castmate David Spade. Chris and David made another movie, Black Sheep, and in 1997 Chris alone starred in Beverly Hills Ninja. In 1998, Chris's last movie Almost Heroes with Matthew Perry premiered over the summer.
Before his death, Chris had his share of problems, including cocaine, pot, and excessive drinking. On December 18, 1997, Chris died from an overdose on cocaine and opium drugs in his apartment in Chicago. He was only 33. His funeral a few days later was attended by family and friends including Chris Rock.
Several tributes to Chris Farley have been aired: the day after his death, Comedy Central aired an all-day SNL marathon highlighting Chris's performances. And on the following Saturday, a Chris Farley Special with clips from the comic's SNL career aired on NBC replacing the normal Saturday Night Live episode. We all know how much we will miss Chris's humor and the way he made us laugh so hard.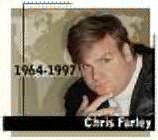 ---
© 2000 SNL1344@aol.com